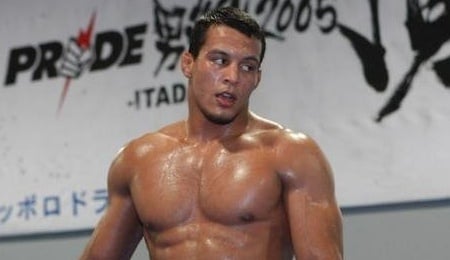 Brazilian news outlet Tatame broke the news that former M-1 light heavyweight champion Vinny Magalhaes has signed with the UFC. Multiple media sources have since confirmed the signing.
Magalhaes is currently riding a five-fight winning streak. He bested Viktor Nemkov for the M-1 light heavyweight title in 2011. He defended the belt once, a head-kick knockout of Mikhail Zayats, before leaving the promotion on bad terms. The feud became public and Magalhaes even place the title belt on eBay.
The Rio de Janeiro native reached the finals of the eighth season of "The Ultimate Fighter." However, in the finale bout, he was stopped by Ryan Bader. After a subsequent loss to fellow cast mate Eliot Marshall, the UFC released Magalhaes.
Even though he holds a 9-5 record as an MMA fighter, Magalhaes is much more accomplished on the grappling mats. He is considered one of the best no-gi grapplers in the sport today and also holds several gi titles as well. At the 2009 ADCC Submission Wrestling World Championships he scored bronze medals in the under 99kg category and the absolute. He returned in 2011 and took gold in the over 99kg weight class.
Scroll To Top