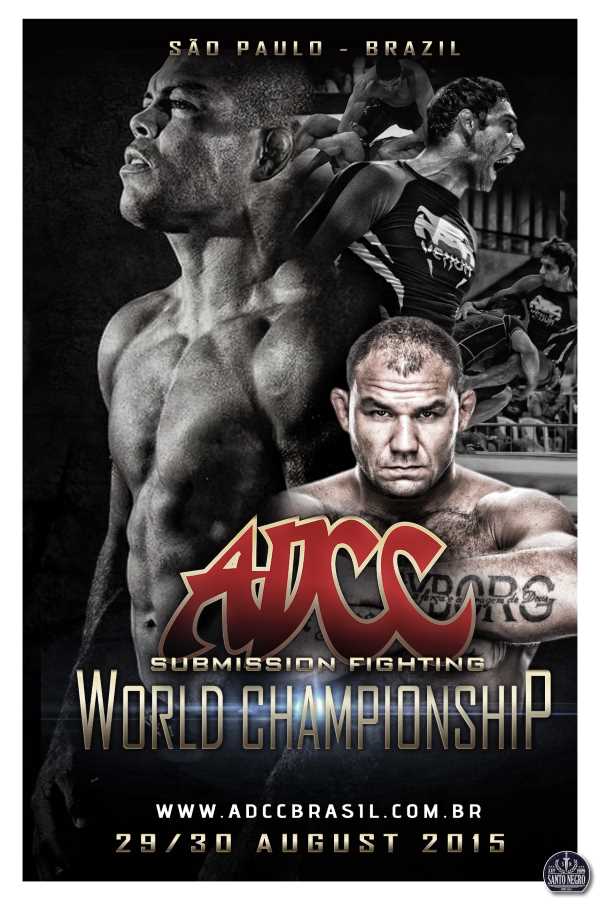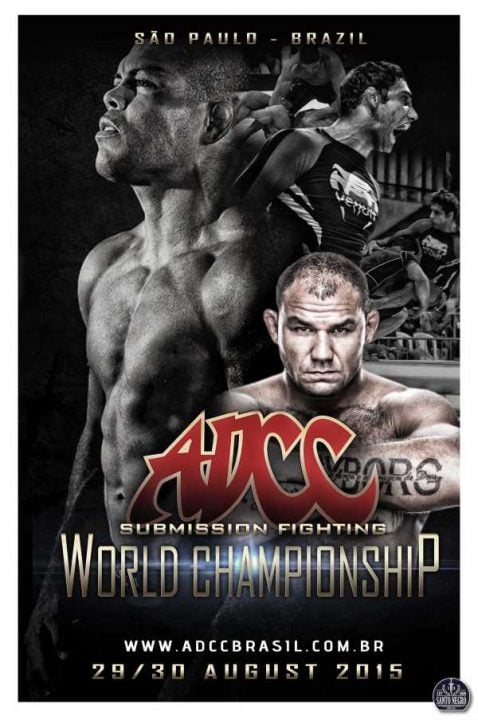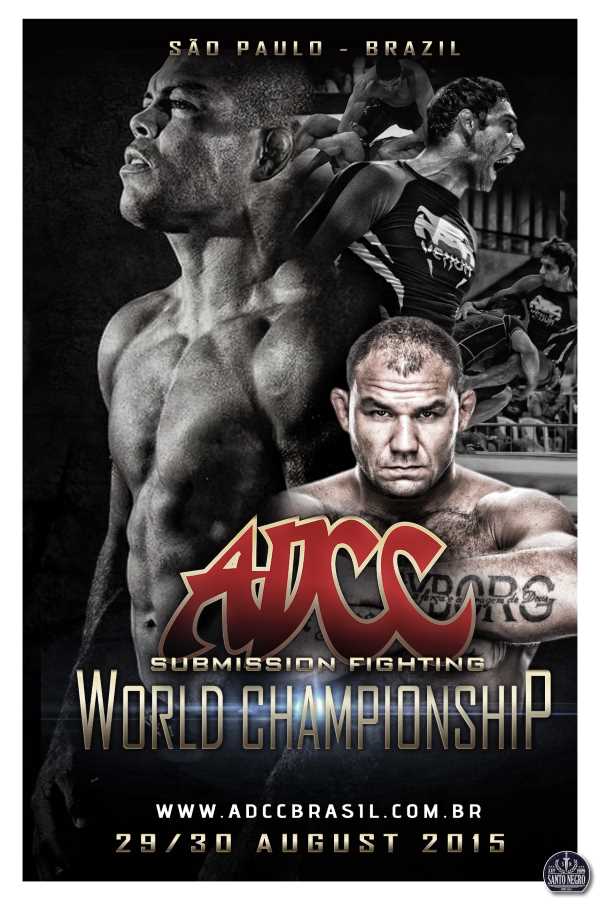 ADCC SUBMISSION FIGHTING WORLD CHAMPIONSHIP 2015
ADCC Committee is officially announcing some of the names that are set to compete in the upcoming ADCC Worlds event in Sao Paulo, Brazil on 29–30th August, 2015.
Latest Update:
Jeff Monson from USA is OUT of the +99kg division!
Juskowiak Mateusz from Poland is entering the +99kg divison.
Male -66 kg

1. Rubens Charles "Cobrinha" – Brazil (ADCC 2013 Winner)
2. Asadulaev Surkhay – Russia (1st European Trials Winner)
3. Nicolas Renier – France (2nd European Trials Winner)
4. Tezekbaev Rasul – Kyrgyzstan (1st Asia & Oceania Trials Winner)
5. Yuto Hirao – Japan (2nd Asia & Oceania Trials Winner)
6. Geovanny Martinez – USA (1st North American Trials Winner)
7. Edward Cummings – USA (2nd North American Trials Winner)
8. Renan Sancar Santos – Brazil (1st South American Trials Winner)
9. Gabriel Marangoni – Brazil (2nd South American Trials Winner)
10. Jeff Glover – USA (Invited)
11. Augusto Mendes – Brazil (Invited)
12. Justin Rader – USA (Invited)
13. Bruno Frazatto – Brazil (Invited)
14. Gianni Grippo – USA (Invited)
15. Mark Ramos – USA (Invited)
16. Alexandre Vieira – Brazil (Invited)
Male -77 kg

1. Gamrot Mateusz – Poland (1st European Trials Winner)
2. Abdulkadirov Magomed – Russia (2nd European Trials Winner)
3. Lachlan Giles – Australia (1st Asia & Oceania Trials Winner)
4. Young-am Noh – Korea (2nd Asia & Oceania Trials Winner)
5. Enrico Cocco – USA (1st North American Trials Winner)
6. Vagner Rocha – USA (2nd North American Trials Winner)
7. Davi Ramos – Brazil (1st South American Trials Winner)
8. Gabriel Rollo – Brazil (2nd South American Trials Winner)
9. Garry Tonon – USA (Invited)
10. Otavio Sousa – Brazil (Invited)
11. Lucas Lepri – Brazil (Invited)
12. Ben Henderson – USA (Invited)
13. Dillon Danis – USA (Invited)
14. Gilbert Burns – Brazil (Invited)
15. AJ Agazarm – USA (Invited)
16. Milton Vieira – Brazil (Invited)
Male -88 kg

1. Romulo Barral – Brazil (ADCC 2013 Winner)
2. Zbigniew Tyszka – Poland (1st European Trials Winner)
3. Jesse Urholin – Finland (2nd European Trials Winner)
4. Craig Jones – Australia (1st Asia & Oceania Trials Winner)
5. Hidemi Mihara – Japan (2nd Asia & Oceania Trials Winner)
6. Matthew Arroyo – USA (1st North American Trials Winner)
7. Mike Perez – USA (2nd North American Trials Winner)
8. Claudio Calasans – Brazil (1st South American Trials Winner)
9. Keenan Cornelius – USA (Invited)
10. Rustam Chsiev – Russia (Invited)
11. Pablo Popovich – USA (Invited)
12. Rafael Lovato Jr. – USA (Invited)
13. Ezra Lenon – USA (Invited)
14. Neiman Gracie – Brazil (Invited)
15. Yuri Simoes – Brazil (Invited)
16. Ricardo Ramos De Mesquita – Brazil (Invited)
Male -99 kg

1. Joao Assis – Brazil (ADCC 2013 Winner)
2. Tomasz Narkun – Poland (1st European Trials Winner)
3. Kamil Uminski – Poland (2nd European Trials Winner)
4. Tobias Green – Australia (1st Asia & Oceania Trials Winner)
5. Yukiyasu Ozawa – Japan (2nd Asia & Oceania Trials Winner)
6. Tom DeBlass – USA (1st North American Trials Winner)
7. Jason Bukich – USA (2nd North American Trials Winner)
8. Roberto Alencar – Brazil (1st South American Trials Winner)
9. Cassio Francis Da Silva – Brazil (2nd South American Trials Winner)
10. Alexandre Ribeiro – Brazil (Invited)
11. Hector Lombard – USA (Invited)
12. Felipe Pena – Brazil (Invited)
13. Rodolfo Vieira – Brazil (Invited)
14. Jimmy Friedrich – USA (Invited)
15. Adam Sachnoff – USA (Invited)
16. Lukasz Michalec – Poland (Invited)
Male +99 kg

1. Janne-Pekka Pietiläinen – Finland (2nd European Trials Winner)
2. Lee Hyoung Chul – Korea (1st Asia & Oceania Trials Winner)
3. Hideki Sekine – Japan (2nd Asia & Oceania Trials Winner)
4. Jason Lees – USA (1st North American Trials Winner)
5. Paul Ardila – USA (2nd North American Trials Winner)
6. Leonardo Nascimento Lucio – Brazil (1st South American Trials Winner)
7. Gabriel Lyrio Lucas – Brazil (2nd South American Trials Winner)
8. Rodrigo Cavaca – Brazil (Invited)
9. Joao Gabriel Rocha – Brazil (Invited)
10. Dean Lister – USA (Invited)
11. Vinny Magalhaes – Brazil (Invited)
12. Orlando Sanchez – USA (Invited)
13. Rodrigo Artilheiro – Brazil (Invited)
14. Bernardo Faria – Brazil (Invited)
Jeff Monson – USA (OUT)
15. Jared Dopp – USA (Invited)
16. Juskowiak Mateusz – Poland (Invited)
Female -60 kg

1. Michelle Nicolini – Brazil (ADCC 2013 Winner)
2. Kethe Marie Elgesem Engen – Norway (European Trials Winner)
3. Rikako Yuasa – Japan (Asia & Oceania Trials Winner)
4. Tammi Musumeci – USA (North American Trials Winner)
5. Ana Michelle Tavares Dantas – Brazil (1st South American Trials Winner)
6. Mayra Mello Mazza – Brazil (2nd South American Trials Winner)
7. Mackenzie Dern – USA (Invited)
8. Beatriz Mesquita – Brazil (Invited)
Female +60 kg

1. Gabrielle Garcia – Brazil (ADCC 2013 Winner)
2. Sophia Nordenö – Sweden (European Trials Winner)
3. Amanda Santana – USA (North American Trials Winner)
4. Fernanda Mazzelli Almeida Maio – Brazil (1st South American Trials Winner)
5. Jéssica Da Silva Oliveira – Brazil (2nd South American Trials Winner)
6. Marysia Malyjasiak – Poland (Invited)
7. Ana Laura Cordeiro – Brazil (Invited)
8. Alison Tremblay – Canada (Invited)
ADCC Stars Superfight
Mário Sperry (Brazil) vs. Ricardo Liborio (Brazil)
ADCC Main Superfight
André Galvão (Brazil) vs. Roberto "Cyborg" Abreu (Brazil)
Scroll To Top