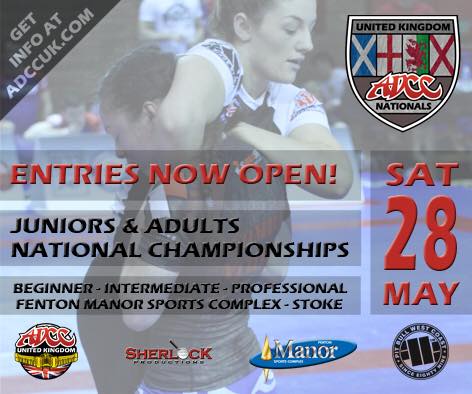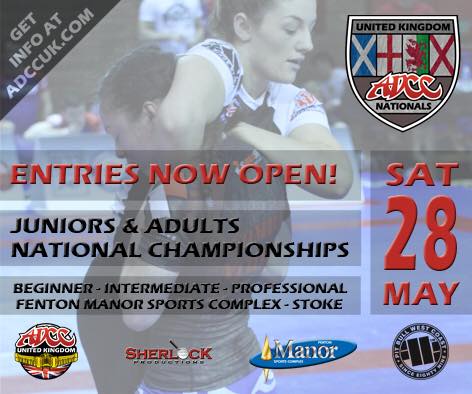 ADCC SUBMISSION FIGHTING
UK NATIONAL CHAMPIONSHIPS 2016
May 28th 2016, Stoke, UK
Fenton Manor, 8:30am Weigh in, 10:30am start
COMPETITION INVITATION
Rules
We are hosting Juniors & adults
We are running Beginner, Intermediate & Professional rules
(Juniors will compete in beginner and Intermediate only and use beginner rules)
Atheltes must be from the UK to compete
REFEREES
All interested please contact:
[email protected]
Weight classes;
Professional:
Men: -65.9kg, -76.9kg, -87.9kg, -98.9kg and +99kg
Female: -60kg and +60kg
Masters: 65.9kg, -76.9kg, -87.9kg, -98.9kg, +99kg
Intermediate:
Men: -60kg, -65kg, -70kg, -76kg, -83kg, -91kg, -100kg, +100kg
Master: -60kg, -65kg, -70kg, -76kg, -83kg, -91kg, -100kg, +100kg
Female: -60kg and +60kg
Beginners:
Men: -60kg, -65kg, -70kg, -76kg, -83kg, -91kg, -100kg, +100kg
Master: -60kg, -65kg, -70kg, -76kg, -83kg, -91kg, -100kg, +100kg
Female: -60kg and +60kg
Boys: – 55kg, -65kg, -75kg, +75kg
Girls: – 50kg, +50kg
+ Absolute divisions
https://adcombat.com/adcc-rules-and-regulations
Prizes
Every weight classes' three best fighters get medals and diplomas.
Mens, Masters & Female absolute winners have Free Entry to next ADCC UK Event.
Prize for Fastest submission.
The team that gets most of the points gets the "Best Team Cup" & 1year free membership to ADCC UK Academy Program
Points: 1st place 5 points; 2nd place 3 points; 3rd place 1 point
Competition payment
Competition fee is Adult £45/78€  – Jnr £25/33€
Entry must be made via bit.ly/EnterADCC before registration closing date 21/05/16
All registration instructions are online. Please fill out details in form including Name, Team, Category.
First 100 ADULT entries will receive a free customised Pitbull UK fight shorts.
Bank Account:
All payments are made on online via card or paypal
Weight in
Weight in is just before the first fight
Public
The doors open half hour before competition
Entrance £5/8€
Registration
The deadline of registration is MAY 21st 2016
Registration and event information: E-mail [email protected]
Organized by: ADCC EUROPE & UK
Scroll To Top