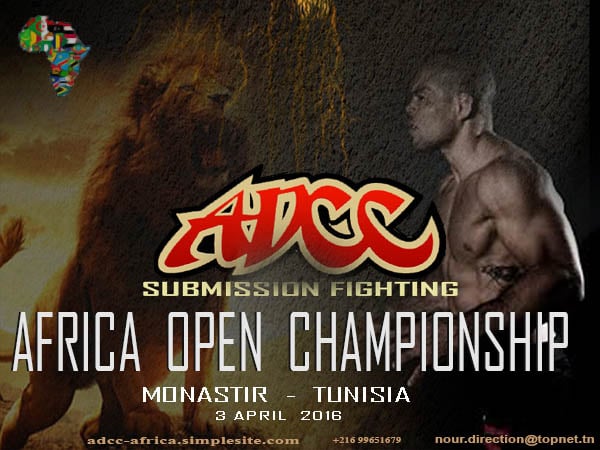 ADCC SUBMISSION FIGHTING AFRICA OPEN CHAMPIONSHIP 2016
3rd April 2016 , 10 AM
Hall Omnisport Monastir, Tunisia
COMPETITION INVITATION
Weight classes;
Men: -65.9kg, -76.9kg, -87.9kg, -98.9kg and +99kg
Female: -60kg and +60kg
Rules;
https://adcombat.com/adcc-rules-and-regulations
REFEREES
Official referee course is directed by Marko Leisten. the day before "2nd April" All interested contact: [email protected]
Prizes
Every weight classes' three best fighters get medals and diplomas.
The team that gets most of the points gets the "Best Team Cup" gold= 7 points silver= 3 points
Event T shirt for all fighters.
Competition payment
Before 1st mars 20€ 40 TND
2nd mars to 1st april 25€ 50 TND
Last minute 30€ 60TND
Payment has to be paid before the last registration date to bank account.
Message in the payment has to contain fighters name, team and category.
Bank Account:
RIB 14 502 5021007045026 05
IBAN TN59 14 502 5021007045026 05
COD.BIC BHBKTNTT
Weight in
Weight in is just before the first fight 9 AM.
Public
The doors open half hour before competition
Free Entrance.
Registration
The deadline of registration is 31st Mars
Registration and event information: [email protected] +216 99651679
Organized by: ADCC TUNISIA
Scroll To Top